---
chevrolet 409 chevy engine book
This how-to manual covers Chevrolet 348 & 409 Big Block V-8 engines.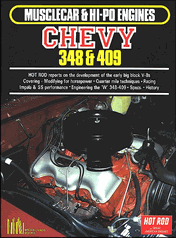 Learn how to identify the 348 409 chevy engine your want for your classic car project before you run out and buy the first 348 409 chevy engine you see advertised. Not all 348 409 chevy engines are the same, there were many different versions over the years. You will learn how to recognize the best ones by the chevy engine casting numbers and unique differences between them.
Hot Rod magazine reports on the development of the early big block Chevy V-8s covering:
modifying your horsepower
quarter mile techniques
racing, Impala & SS performance
engineering the "W" 348-409
specifications
and more
Click on the photo to order your copy today!