---
chevrolet casting numbers
Cars & Parts Catalog of Chevrolet Engine Casting Numbers 1955-1993 and Stamped Numbers.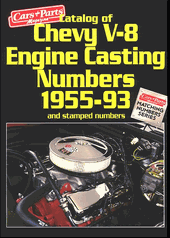 There are two basic chevrolet casting numbers identification needs that this book serves. This first is the typical collector who is trying to identify a component by Chevrolet casting numbers, which may be in a salvage yard, at a swap meet, a friend's cache of parts, etc. He wants to know what kind of vehicle the component was originally installed on. And second, he wants to know which chevrolet casting numbers are "correct" for his car, so a proper replacement can be found.
This is a common need experienced by the restorer who has a Chevy engine project missing original engine components, i.e., the intake, carburetor, exhaust manifolds. To identify a component, find the chevrolet casting numbers or stamped-in identification number, turn to the appropriate section of this book, and look it up.
1955-1993 Chevy V8 engine casting numbers explained...
small block chevrolet engine casting numbers
big block chevrolet engine casting numbers
identify crankshafts
small block chevrolet cylinder head casting numbers
big block chevrolet cylinder head casting numbers
exhaust and intake manifolds
Carter carburetor numbers
Holley carburetor numbers
Rochester carburetor numbers
Fuel pump casting numbers
water pump casting numbers
Generator and Alternator numbers
starter numbers
distributor casting numbers
EGR valve numbers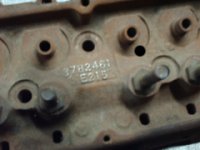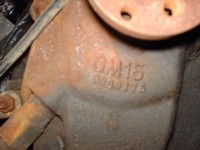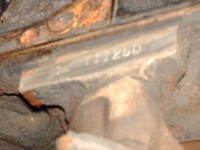 Click on the photo to order your copy today!