---
1964 Chevrolet showroom and dealer service bulletins
Shop manuals and assembly guides give you a lot of information about your 64 Impala, but you won't learn much about the finer selling points. Chevrolet called them Custom Feature accessories, but the Chevrolet dealers in 1964 called them options and accessories. For that matter so do you and I.
I did it Myself!

With Tools and Instruction
from Seasoned Pros.

---

They'll be in awe of you...
when you tell them
who did the work.


Click Here!
You'll learn a lot from the accessory and options brochures as well as some of the dealer service bulletins. The accessory options are something the gentleman restorer would want to know, while the dealer service bulletins provide information valuable to the DIY classic car restorer or the professional classic car restorer.
Here's some examples of the kinds of 1964 Chevrolet literature you'll find. I picked up mine while at the Carlisle events.
1964 Chevrolet showroom sales literature
There's 5 in 64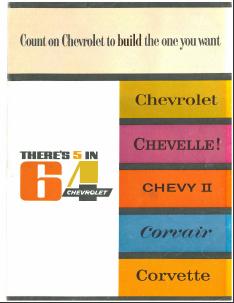 This brochure is a booklet with pictures of each of the 5 Chevrolet body types selling in 1964. It covers model specific features for the full size B body Chevrolet Impala/Bel Air/Biscayne, Malibu/Chevelle, Chevy II, Corvair and Corvette. Ya, that's more than 5 but I'm sure they're referring to body styles when they said 5 in 64.

1964 Custom Feature Accessories brochure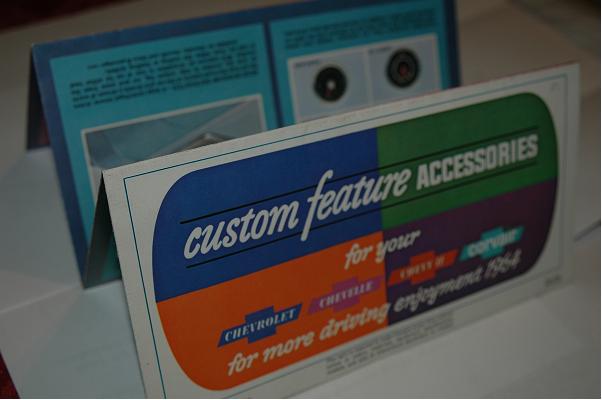 Rather than the typical tabular list of custom accessory options available for Chevrolets in 1964, this brochure comes in full color foldout form that anyone can put in their pocket. This brochure pays more attention to the custom accessory options rather than the standard ones. The value in having this brochure is the images. If you're looking for these options at swap meets, you'll have a good visual reference.
1964 Chevrolet dealer service bulletins
1964 Chevrolet Special Service Tools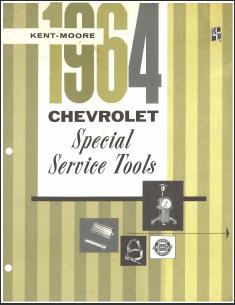 Undoubtedly one of the most useful service bulletins provided to dealerships was the 1964 Chevrolet Special Service tools booklet. This was a booklet full of all the special tools needed to work on the 64 Chevrolets, not just Impala's. It provides images and brief descriptions of what the tool is used for. Some examples would be the front door hinge wrench, the turn signal cover remover, the reveal molding clip remover, rear deck lid torsion bar remover, and a whole bunch more tools.
1964 Chevrolet wiring diagrams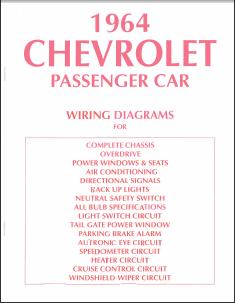 Wiring problems don't happen much when a car is new, but this booklet would be priceless to anyone working on a 1964 Chevrolet once it was a few years old and had some wear and tear. This is especially useful to the DIY classic car restorer or the professional. The diagrams are much easier to read than the ones in the shop manual and the images of the different components more accurately depict connections at each of the electrical terminals. I really like this booklet.
1964 High Performance Engine Specifications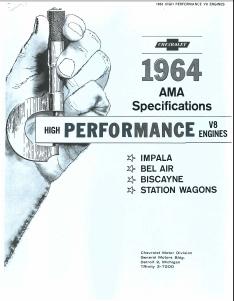 There's a lot of information in this booklet. This booklet covers all the specifications that would be needed by engine rebuilders or would make a great reference for the DIY restorer who wants to be sure the internal engine parts being used are true to the originals.